This is a subpage of another page.
Welcome to the list of characters of Rilu Rilu Fairilu: Fairy Warriors.
Main Characters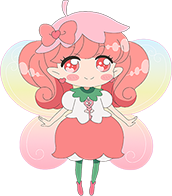 The following characters are divided based on their role.
Protagonists
Antagonists
Deities
Fairilu Gole - He is the 246th Deity elected as Supreme Overlord of all Fairilus, he is respected by all Fairilus.
Fairilu Marge - Fairilu Gole's wife.
Crossover
Herman - From Jewelpet Candado
Lollip - From Jewelpet Candado
Rossa - From Jewelpet Candado
Anby - From Jewelpet Candado
Lifun - From Jewelpet Candado